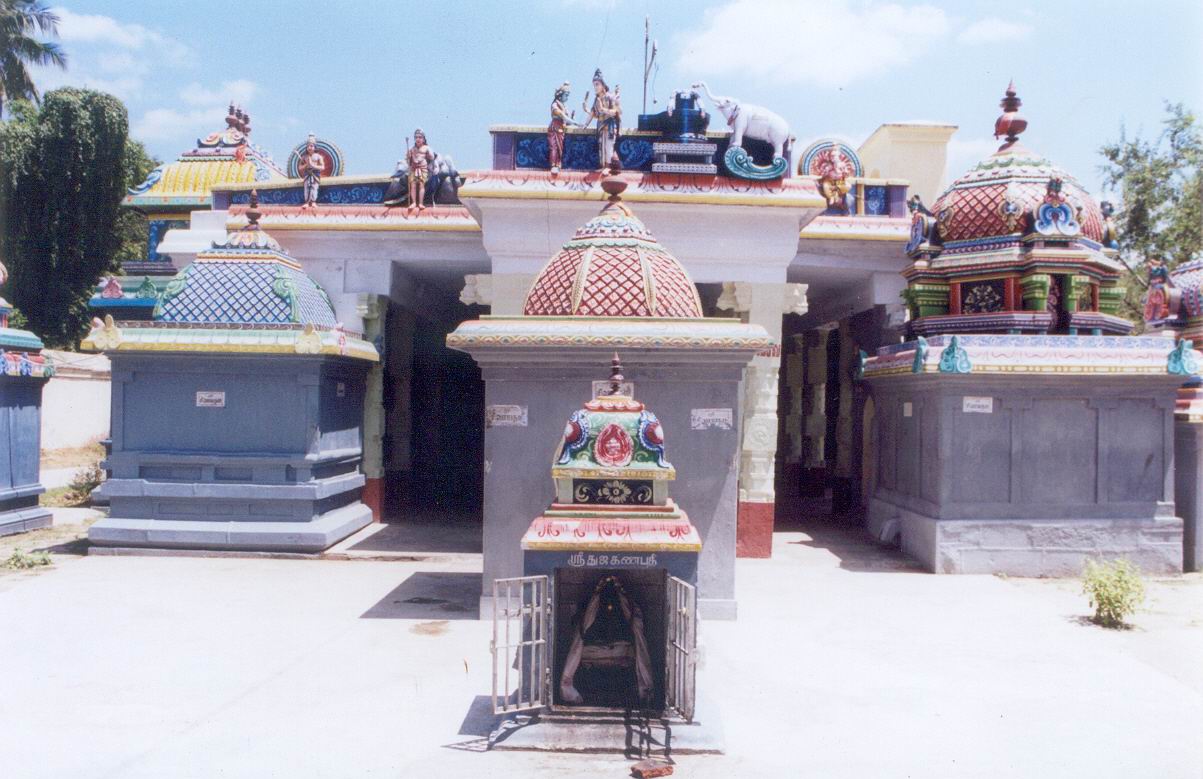 Description: This shrine is closely related to Tirutturutti (Kutralam) , Tiruvelvikkudi and Tirumanancheri. This shrine is also referred to as Melaittirumanancheri and is located at a distance of 4 km from the Kutralam railway station near Mayiladuturai. This is considered to be the 24th in the series of the Tevara Stalams in Chola Nadu located north of the river Kaveri.


Legends: Shiva the bride groom is said to have been received here by Bharata Muni, hence the name Edirkolpaadi. . Another legend states that Shiva - played host (as a maternal uncle) received a prince and a new bride here and hence the name of the shrine. Several
colorful legends link many of the shrines in the vicinity. Parvati is said to have been born as a daughter to Bharata Muni, and worshipped Shiva at Kutralam; the vedic rituals for the divine marriage performed at Tiruvelvikkudi nearby, and the marriage is believed to have happened at Tirumanancheri. A shrine by name Kurumulaippaalikai is also said to be connected with the series of events above. All of these are also linked to Tiruvaavaduturai, where Parvati in the form of a cow is believed to have worshipped Shiva. This legend in turn is associated with the legend of Terazhundur where Shiva and Parvati are believed to have played a game of dice with Vishnu (Aamaruvipperumaal) as the refree.

The Temple: Stucco images relating the legends described above are seen in the temple. Inscriptions from the imperial Chola period are seen in this temple. The first stone structure dates back to the period of Kulottunga Cholan.
Worship: Four worship services are offered each day here.