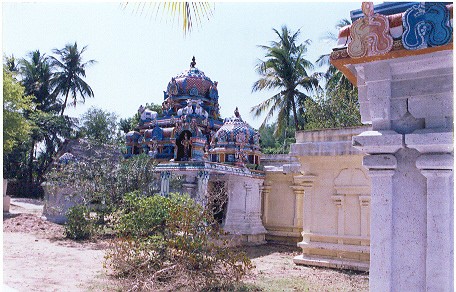 Description: This Shivastalam is located near Tiruninriyur, which is located close to Ananda Tandavapuram. Tirunanipalli, another Shivastalam is located close by. Tirukkadaimudi is located in the village of Tiruchennampoondi, a mile North of Koviladi near Thanjavur. Koviladi is also known as Perur, or Tiruppernagar. This temple, now a Pidari temple is also referred to as Sadaiyar Koyil.

The Temple: The presiding deity Kadaimudinathar (Anthisamrakshaneeswarar) is housed in a west facing shrine. The Ambal shrine dedicated to Abhiramavalli is a west facing one. There are also shrines to Nataraja, Bhairavar and the Tevaram trinity. I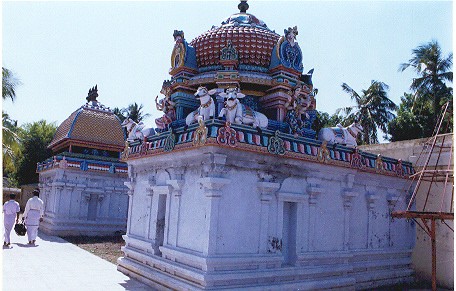 nscriptions in this West facing temple from Vikrama Chola's period refer to the deity here as Tiruchchadaimudi udaiya Mahadevar. Inscriptions from the period of Nandivarma Pallava III are found in this temple. Several inscriptions from the period of Parantaka I are also found here. An image of An image of Ardhanareeswarar discovered near the temple (suggesting that the stone structure was erected during the days of Aditya Chola I) is now preserved in the Chennai Government Museum.
Legend has it that Bhrama worshipped Shiva here. The looping of the river Kaveri, in an almost westward flow is considered to be of significance here. Four worship services are offered each day; Arudra Darisanam and Kartikai Deepam are also celebrated here.