Description: This Shivastalam is located near Papanasam, near Kumbhakonam. Avalivanallur and Tirunallur are some of the Shivastalams nearby. Tirukkarukaavur is considered to be the 18th in the series of Tevara Stalams in the Chola kingdom located south of the river Kaveri.

This Shivastalam is known more, for its shrine to Garbarakshakambika.

Legend has it that Parvati is assisted a helpless lady in her motherhood and saved her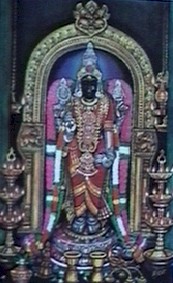 (foetus) offspring, and hence the name Karukaavoor. Ganapati and Nandi are also Swayambus here. Shiva, Parvati and Subramanya shrines are constructed in the Somaskanda formation.
Worship services carried out here are believed to help barren couples in obtaining progeny. As in the legend mentioned , worship services carried out here, are also believed to aid in healthy pregnancies.
This temple occupies an area of about 125000 sq ft. The chariot shaped shrine of Nataraja is of great beauty. The prakaram circling Shiva's shrine is enclosed by a wall, crowned with a gopuram at its entrance. Ambal's shrine, is a separate one, located to the North (left) of Shiva's shrine, and Subramanya'rs shrine is located in between, as said before, in the Somaskanda formation. Ardhanareeswarar occupies the niche on the Western part of the sanctum and this leads one to infer that the stone structure of the temple could date back to the time of Aditya Chola. Inscriptions from Raja Raja Chola's period as well as those from Parantaka Chola's period (early 10th century) are seen here.
Festivals: Five worship services are offered here each day. The annual Bhrammotsavam is celebrated in the month of Vaikasi. Other festivals celebrated include Arudra Darisanam, Kartikai Deepam, Aadi Pooram and Navaratri for Ambal, Skanda Sashti, Aippasi Pournami, Mahasivaratri. ..