How to use this site
What is New
Featured Articles
Encyclopedia of Indian Temples


Indian Temple Architecture
Travel and Tourism
Festivals and Fairs
Myths and Legends
Glossary of Terms
---
To advertise in this site or to get more information, please contact:
webmaster@templenet.com
©1996 K. Kannikeswaran
All Rights Reserved.
This site is created and maintained by
Heritage Net Associates
where
Tradition Meets Technology
Hosted by Blueshift Inc.
---
Pancha Bhoota Stalams
December 1998
Indian belief associates the origin of life with the five basic elements (Pancha – five, Bhootam – Element) of Wind, Water, Fire, Earth and Space (ether). In Sanskrit, these elements are referred to as Vayu, Jalam (Apah), Agni, Prithvi and Aakasam. The Indian system of belief in Divinity also worships the divine as a manifestation of these basic elements. Accordingly, Shiva is worshipped as a manifestation of these elements in five ancient temples in India.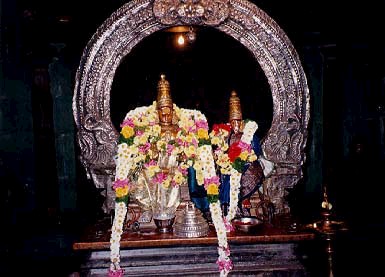 These five temples are
There is much in common between these five temples. These are among the holiest Saivite shrines in India, and have been glorified by the poems of the Nayanmar Saints of Tamilnadu. Reference to these five temples in various literary works place them in history, in as early as a period as the Sangam period in the very early Christian era.
A flickering lamp in the Sree Kalahasti temple shows the play of wind, the water spring in the innermost sanctum of the Tiruvanaikka temple shows the temple's relationship to the element water, the annual Kartikai Deepam festival at Tiruvannamalai where a giant lamp is lighted atop the Annamalai hill shows the Annamalaiyaar's manifestation as fire, the swayambhu lingam of sand at Kanchipuram signifies the deitie's association with the earth while the formless space at Chidambaram shows the association of the Supreme being with formlessness or nothingness.