How to use this site
What is New
Featured Articles
Encyclopedia of Indian Temples


Indian Temple Architecture
Travel and Tourism (Maps)
Festivals and Fairs
Myths and Legends
Glossary of Terms
---
To advertise in this site or to get more information, please contact:
webmaster@templenet.com
©1996 K. Kannikeswaran
All Rights Reserved.
This site is created and maintained by
Heritage Net Associates
where
Tradition Meets Technology
Hosted by Blueshift Inc.
---
The Templenet Encyclopedia
Temples of Karnataka
Home Page of
Trikuteshwara Temple at Gadag near Dharwar(Karnataka)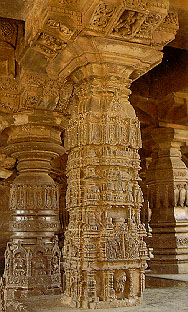 Deities: Trikuteshwara (Shiva)
The Trikuteshwara temple dedicated to Shiva has three lingams mounted on the same stone. There is a shrine dedicated to Saraswathi in this temple and it has beautifully worked columns. The temple dates back to the Kalyani Chalukyas.
Access and Accomodation: Dharwar
[Temples of Karnataka][The Templenet Encyclopedia - Index to States]