How to use this site
What is New
Featured Articles
Encyclopedia of Indian Temples


Indian Temple Architecture
Travel and Tourism (Maps)
Festivals and Fairs
Myths and Legends
Glossary of Terms
---
To advertise in this site or to get more information, please contact:
webmaster@templenet.com
©1996 K. Kannikeswaran
All Rights Reserved.
This site is created and maintained by
Heritage Net Associates
where
Tradition Meets Technology
Hosted by Blueshift Inc.
---
The Templenet Encyclopedia
Temples of Karnataka
Home Page of
Hoysaleswara Temple at Halebidu near Hassan(Karnataka)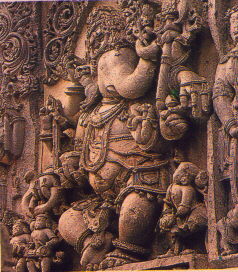 Deities: Hoysaleswara (Shiva)
Halebidu was the original capital of the Hoysala kingdom. The Hoysaleswara temple dedicated to Shiva was built in the 12th century. This can be described as the most beautiful of the Hoysala Temples. Thousands and thousands of figures adorn the walls.This temple is indeed a masterpiece in design and it attracts visitors from around the world. The Kedareswara temple in Halebidu now in a dilapidated state is a masterpiece of creation. Three ornate Jain Temples also adorn Halebidu.
Access and Accomodation: Hassan
[Temples of Karnataka][The Templenet Encyclopedia - Index to States]