How to use this site
What is New
Featured Articles
Encyclopedia of Indian Temples


Indian Temple Architecture
Travel and Tourism (Maps)
Festivals and Fairs
Myths and Legends
Glossary of Terms
---
To advertise in this site or to get more information, please contact:
webmaster@templenet.com
©1996 K. Kannikeswaran
All Rights Reserved.
This site is created and maintained by
Heritage Net Associates
where
Tradition Meets Technology
Hosted by Blueshift Inc.
---
The Templenet Encyclopedia
Temples of Karnataka
Home Page of
Gavi Gangadhareshwara Temple at Bangalore(Karnataka)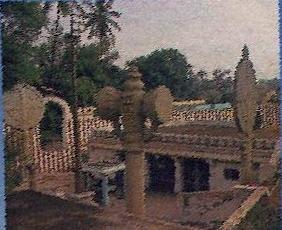 Deities: Gangadareshwara(Shiva)
This cave temple dedicated to Shiva in Bangalore is a well visited one. The temple yard here contains several monolithic sculptures.On Makara Shankaranti each year, the suns' rays pass through the horns of the Nandi and illuminates the deity.
Access and Accomodation: Bangalore
[Temples of Karnataka][The Templenet Encyclopedia - Index to States]